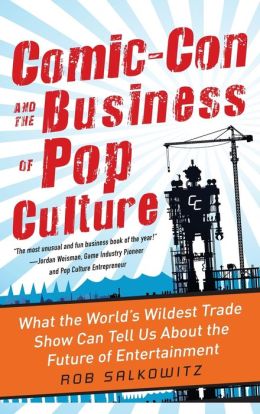 I picked up
Comic-Con and the Business of Pop Culture
from Durham County Library's new nonfiction shelf (not just the new shelf in my mind), assuming I'd ultimately find it disappointing, but I'm happy to report that I was thoroughly mistaken! Author
Rob Salkowitz
frames it as a book about business -- although it's shelved among books about comics, large chunks of the text could easily put it with the business philosophy books -- specifically, the San Diego Comic-Con business and its impact on the entertainment and comics industries. I thought I'd skim over a bunch of superficial observations written for business readers, pick up an occasional nugget about comics-related event planning, and then go back to skimming.
Wrong, wrong, wrong! It turned out to be a fascinating read, providing excellent insight into the experience of the event (both as a visitor and a participant), a look at its history, character, function, and future within the world of comics and beyond.
The first thing Salkowitz gets right is explaining that he is a genuine comics reader/fan/nerd, and as a result will not be writing about all the "weirdos" who attend such an event. This perspective allows him to write about geek culture as a hotbed of creativity, passion, and community, as well as one of prejudice, exclusion, and scenesterism, rather than just stopping with "Look! Nerds!" It also allows the book to avoid being lumped in with the so-called "geek-chic" phenomenon, giving him the ability too look at Comic-Con from every angle and at every level of depth.
Salkowitz takes us with him and his wife as they attend the con, starting with pre-show setup (a luxury they afford by volunteering for the Eisner Award program), through as much attendee activity as possible, and even some exclusive after-hours events, all the while elaborating on the history and significance of this or that detail. His descriptions cover panels and programs, controversy over vendor table geography, the culture of booksigning/sketching, the debatable significance of comics awards, competing conventions and the ways they do and do not overlap in function and attendance, and even the economics of event attendance. He also looks at these and other phenomena through time, examining their past and speculating on their possible futures. Although I have not attended Comic-Con myself, this appears to be as thorough as you can get without doing an intense ethnography. All this, and it's well-written and engaging, presenting the event without fawning or being ignorantly critical -- there is certainly room for these perspectives, but Salkowitz's middle-of-the-road perspective is exactly what's needed for the book he set out to write.
As always, I kept the comics librarian in mind when reading. In my initial skepticism, I thought that
maybe
there would be something about programming that would be relevant; in fact, there was much more to take note of. For one, Salkowitz helpfully breaks down Comic-Con's programs into several categories (pg. 59) and explains their purpose and structure in enough detail that programming librarians can consider how these can be modified for use in the library setting. His exploration of the relationship between allied or competing conventions (pg. 171) is a great jumping-off place for discussing the library's relationship to existing comic shops and events. He even devotes a significant amount of space to comics in the library (pg. 179), a discussion that he effectively segues into a consideration of changes in comics culture generally and problems with the many names people use for the medium.
The book's biggest "contribution" to the body of comics librarianship, through, is his extensive look at the rise of digital publication and its implications for publishers, sellers, and readers (pg. 190). I don't have to tell anyone reading this blog that ebooks are at the front of everyone's minds when it comes to libraries. Comics publishing's variable nature (issues vs. trad paperbacks vs. web-only, etc.), along with their serial storytelling, periodical format, and visual component make them an especially interesting challenge to consider in the library of the future. I can't think of a better introduction to this issue than Salkowitz's. Comic-Con and the Business of Pop Culture is an accessible, enjoyable, and informative book, and a quick read as well, so I'd definitely recommend it for comics librarians and anyone else interested in the future of ebooks in the library.